Midnight Rescue! is a computer game from The Learning Company, developers who also made Reader Rabbit. They now own the MECC library.
To say that Midnight Rescue! had a profound influence on me is an understatement. The game has an amazing amount of charm and atmosphere, and a surprisingly deep catalogue of short stories to read and gather clues from.
One of my goals in life, at some point, is to successfully pitch a facelift of this beloved game as a tablet app. This is part of my pitch.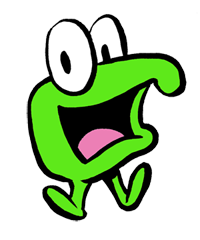 Like Midnight Rescue!, Number Munchers was a pivotal game in my development. It had wit, taught me some rudimentary math skills, and had simple, easy to grasp mechanics.
It is genuinely weird to me that no one has revived such a beautiful game, so I started doing some animation on how I'd facelift the series, preferably for a high-school to college set, with more difficult problems to solve/munch
Below is a test of how I'd animate it. It's quite rough, but it gets the idea across. If you're interested in bringing back this lost gem, email me! Let's make it happen together!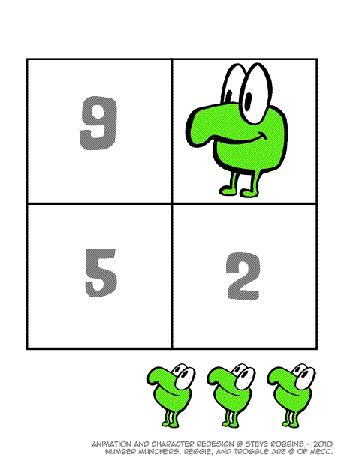 My grand scheme is to show the benfits of this game for high school and college students as an interactive flash-card system. The Muncher represents the student, and the Troggles (see image below) represent anxiety over test-taking.
Selling the game as an app, with semi-regular update patches, subjects can cover things like the periodic table, Chinese hanzi characters, precise messurements, and difficult verb-conjegation, over a memorable soundtrack with unobtrusive sound effects.